Ninth Boss Tactic Blood-Queen Lana'thel – icc in 25 mode
In general, in 25 and 10, two tanks are enough to hold the boss, dps and the brain. There are two basic things that you can not play without one of them. It takes a little care.
The general system of this boss is as follows:
Pact of the Darkfallen : Every once in a while, a red line appears between 3 people. To neutralize this line, the people connected to it should move to the center of the hall and stick to each other for 2 seconds, if this does not work. This spell does not disappear and its number increases and the wipe of the above events is repeated many times.
Swarming Shadows : In the sight of the boss, it debuffs a person, which is purple in color and causes a purple flame to be created under the marked person's feet, and causes a significant amount of damage to the person who is standing, so the person who debuffs quickly Move towards the wall and make a purple flame tangential to the wall
.
.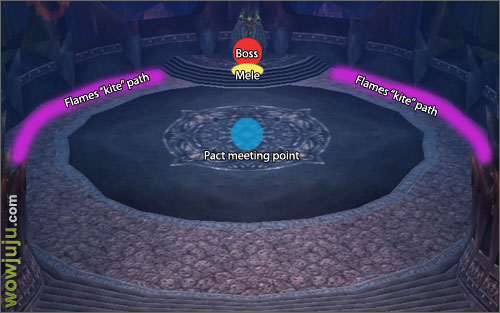 .
.
Which is fully explained in the photo above
Question: Why next to the wall? Answer: Because no one is there and there is space for the person to move and this flame stays on the ground for 30-30 seconds.
Air phas: After a few minutes, the boss comes in the middle of the hall and the air goes in.
Question: What is the general task of the players in this phase? The task of the players is that each player must be more than 8 yards away from the winger.
Question : What if it was less than 8 yards? Answer: You are attacking a significant amount due to yourself or a minor who did not observe 8 yards and you may die and wipe.
Note Shamans before lifting the boss Tremor Totem from prolonging . Both ice and to the end Fear Ward , Anti-Magic Shell
This phase is repeated 2 times!
This damn boss, as its name suggests, has a lot of hp curse on it, which means that when you see it for the first time, you doubt your eye number and think of getting an eye doctor (!) At some point!
This high amount of hp does not decrease with normal dps, which is why the bus buffs several people, and this dmg buffer multiplies that player.
Vampiric Bite : This buff is very good, but maybe this good buff will cause you to wipe. You have reached the buff (60 seconds) you have to bite another dps and move this buff to that dps
Question : What if we do not bite someone? If you do not bite, you become Mind Control and like a bad kid, you kill the raid members one by one and complete your good service for the queen.
Note : To transfer this buff to another dps, it is enough in the last seconds when your spell form changes, go close to the person and spam the number "1" on that dps and get rid of… 10 seconds to do so!
Heroic: In Hard Mode, a fundamental difference is created, and that is the addition of a spell Presence of the Darkfallen called Vampiric Bite . It's hard!
.
.
.