PVP Beast Mastery Hunter
In the post, we will discuss the following about PVP Beast Mastery Hunter class:
1. Best Race
2. Use Hit – Haste – Mastery
3.Socket – Enchant
4. Glyph – Talent – Reforge – Stat
5. Dps training
6.Pets
Here is the best race with the reason:
1. Orc : This breed has a Command that gives you 5% Pet Damge and as you know Bm is almost 60% damage to Pet. Another feature is Blood Fury which gives you very good Attack Power.
2. Troll : We will discuss the useful features of this Troll breed for Hunter
3. Dwarf : This breed is also the best because you get 1% Crit every time you use Gun.
4. Draenei : In this race you are given 1% HIT which helps you a lot
2. Application of Haste-Hit-Mastery
1. HIt: As you know, Hit causes your Chance Miss to go down in Hunter Bm or any other talent to 8% Hit or in other words the same 961 Hit
2. Haste: Well, Haste gives you the mentioned item. First, it reduces the cast of all your Damges
Talent Tree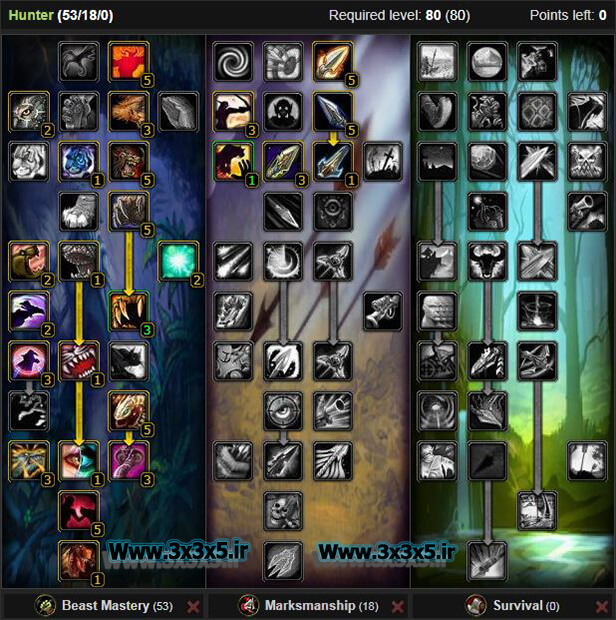 The best type of Glyphs for PVP Beast Mastery Hunter What glyphs can be?
Major Glyphs
Minor Glyphs
The best socket and gem picking mode for PVP Beast Mastery Hunter
Best Enchantments for PVP Beast Mastery Hunter class
Rotations or how to play with the PVP Beast Mastery Hunter class
Kill Shot > Aimed Shot > Arcane Shot > Serpent Sting > Steady Shot

Well, according to Stat, you first set the Hit to 8% or 961. Use Reforge here: Haste to Hit When Hit to 8%, Haste to Crit and Mastery, do not work.
Dps training :
First priority
1.Kill Command
2.Kill Shot
3.Arcane Shot 5. (damge pet) 6. 7. melee
Claw
Ranged Weapon Specialization
Well, first you Kill Command , for less than 20%, then you pay Kill Shot for Spam Arcane Shot
Chimaera – Froststorm Breath is one of the best exotic pets for PVPdue to a special skill
Froststorm Breath is a range skill that also reduces the target by 50% for 5 seconds. Resulting in 70% slow.
The Core Hounds are a little too silly but Battleground but they really shine in the Arena.
DPS and their special ability called Lava Breath is great for overtaking enemies.
Lava Breath is a fire-based spell with a 25% reduction in casting speed for the enemy.
They are great worms for battlefields.
They are very difficult to kill because they survive and they also use a main target for the target.
It offers great capabilities such a sCharge , Intervene ,Roar of Sacrifice and Last Stand .