PVP Marksmanship Hunter training
Why choose Hunter? Very simple hero to start and get acquainted with Wow game – simple and fast level-up – Awesome PVP (steal kill the rest in BG) and have great maneuver during the game.
The best work for Hunter is undoubtedly Engineering
Because the Enchant hand increases its Hyperspeed Accelerators and adds a Nitro Boosts to increase your speed by 100% in 5 seconds and a + 23 Agilty lifeline to your hero. Causes auto attack (which is the first damage in this hero) and its Steady Shot (which is usually the second damage due to the high number) to be greatly improved.
For the second Work, the choice is up to you what you are looking for.
Do you prefer a strong burst to a fixed one or vice versa !?
If the Burst answer is strong then select Tailoring and if the set is fixed select Jewelcrafting . (I myself prefer the tailoring job because of the short fights!)
Best Talent – Talent for PVP Marksmanship Hunter class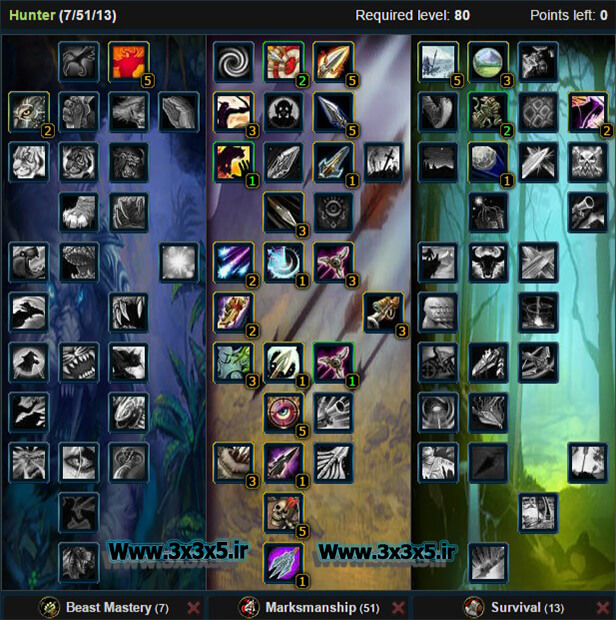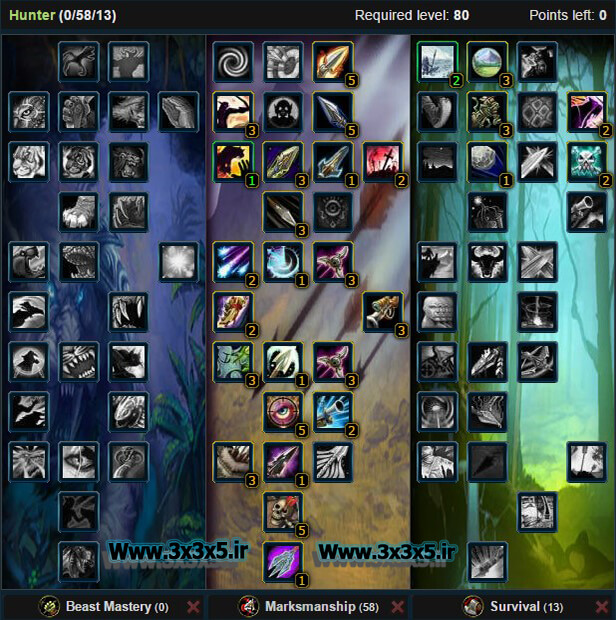 Glyphs
Major Glyphs
Minor Glyphs
The best socket and gem picking mode for PVP Marksmanship Hunter
Best Enchantments for PVP Marksmanship Hunter Class
Rotations or how to play with the PVP Marksmanship Hunter class

Aimed shot -> Hunter's Mark (before Aimed shot lands) -> Serpent Sting -> Chimera Shot -> Arcane Shot
Watch the clip below to better understand the topics.
.
.
.
.
Fixing a Hunter's stat is very simple and generally from left to right:
Hit (164)> Arp (if> 800)> Agilty> Crit> Haste
This means that if Armor Penetration is more than 800 without a socket, the above priority should be used, otherwise do not socket for it.