PVP Balance Druid training
tailoring: This is the best job for us right now. Lightweave Embroidery , which gives us 580 Int for 15 seconds, every 45 seconds, has a 20% chance of being activated when leveling.
The average profit we get from this Enchant is 180 Int, which if we subtract the 50 Int that we usually put on the Back, it becomes 130 Int
Talent Tree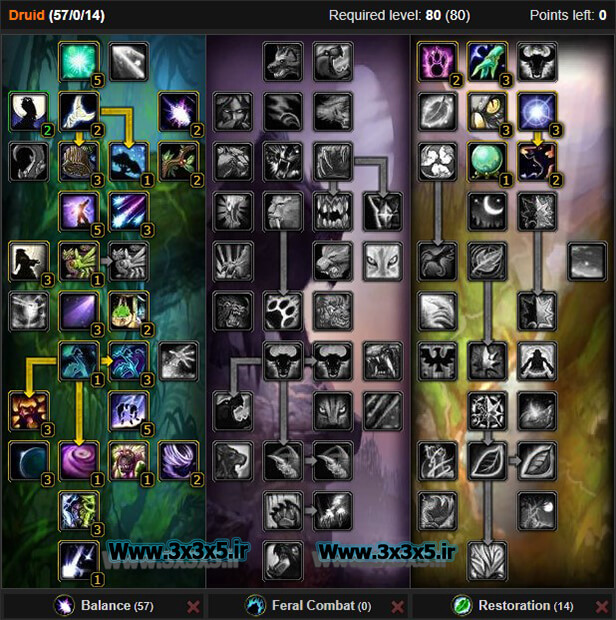 The best type of Glyphs for PVP Balance Druid
Major Glyphs
Minor Glyphs
The best socket and gem for PVP Balance Druid
Best Enchantments for PVP Balance Druid class
Learn Rotations or how to play with the PVP Balance Druid class
Hit rating > Spell Penetration > Resilience > Haste > Spell Power > Crit / Spirit

We start the fight with Insect Swarm and Moonfire .
cycle Eclipse and always use two DoTs on the target and use them when Starfire and Force of Nature are ready.
You must follow this 4-step cycle:
1- Pre-Lunar: Wrath level until Eclipse is activated.
2. Lunar Eclipse: When this Eclipse is activated, stop using Wrath and switch to Starfire for as long as Eclipse is active.
4-Solar Eclipse: Wrath until the Eclipse disappears and then return to the first stage.
In general, we use Wrath until the Eclipse (Solar) is activated and then Starfire until the Eclipse (Solar) is activated, among which our DoTs should always be on target.