Complete PVE Destruction Warlock DPS training
State Required:
Hit Raiting: To make the most of Dps, you must first increase the Hit to 17%
If you are Alliance and race Dreanei in your group then you have 1% Hit
If there is a druid balance or Priest Shadow, you have another 3%
If you also get Pain Suppression , another 3% Hit will be added
In general, you need 446 Hit Raiting, which with the above items, you need 11% Hit in Horde and 10% Hit in Alliance.
Spell Power: This cap does not exist and increases your spell damage. the more, the better
Haste Raiting :
This Stat is very important , increase the Haste to 1600 because your Talent Backdraft also reduces Global Coldown (0.7 Sec), so the closer you get to this amount of Damage per sec, the higher your 1600 Global reaches 1sec, which is for long fights. It's convenient.
For the short Fight that you have Bloodlust and at this time the Fight ends, you can increase the Haste to 1350-1400
Cirit: Not available for Cap – cirit
Sequence of importance: Hit> spell power> Haste> Haste
Suitable job: Engneering + Tailoring
Best Talent – Talent for PVE Class Destruction Warlock DPS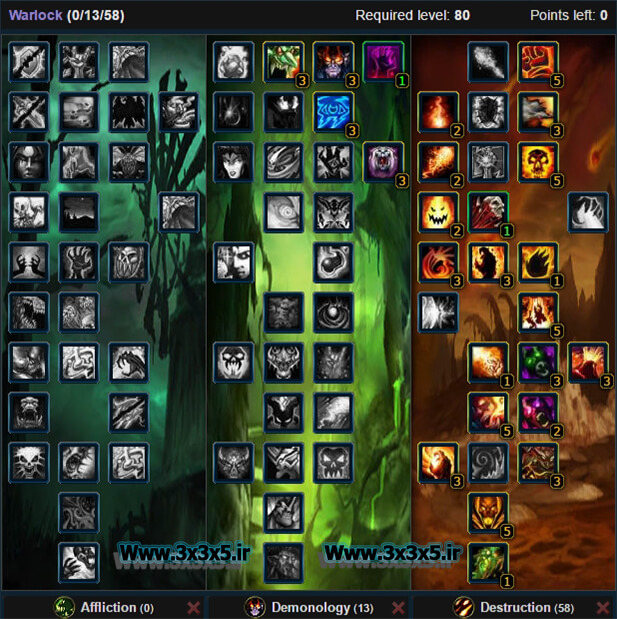 The best type of Glyphs for PVE Destruction Warlock DPS What glyphs can be?
Major Glyphs
Gem and socket

Best Enchantments for PVE Class Destruction Warlock DPS
Weapons
Two-handed

– Enchant Staff – Greater Spellpower
Rotations or how to play with the PVE Destruction Warlock DPS class

Note that each extra move reduces your Dps. Do your best placement
Addons :
File password: www.wikiwow.ir
These add-ons are also in the addons section of the site, which you can download with a direct link.