What is Character Info ?
All the information of your hero can be seen in a section called Character Info . You can use C to open this section.
.
.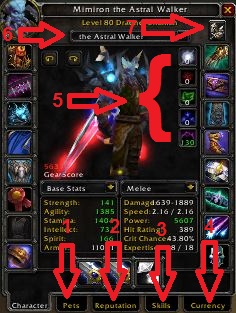 .
.
1- Your Mounts and
Pets 2- Reputation
3- Skill
4- Currency All your assets are displayed in this section
5- Spell Resistants
6- Here are your titles and You can put any of them you want behind or in front of your name.
7- In this section, you can create a set for yourself and change your items with one full click.
Further Details
1- Mounts are creatures that are used for movement.
These creatures can be used in 2 types of land and air.
.
.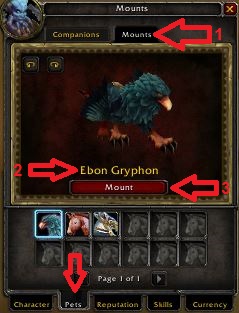 .
.
1- Select Mounts from the above options 2- Your Mount
name 3- By clicking on this option you will ride it
2- Reputation (popularity) shows you among other races and ethnicities.
In this section, you can choose to be friends with one ethnic group and at the same time with several other races, the enemy
of your popularity with your different ethnic groups. You can buy valuable goods from them
.
.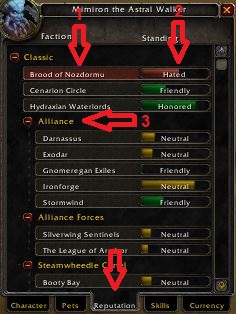 .
.
1- Race name
2- Your level of popularity with this race
3- Race categories
Table of popularity levels and required points for each level
.
.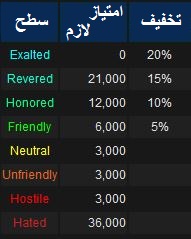 .
.
3- Your
skills
(professions) in using weapons or in jobs.
This section shows your level of professionalism in each case.
Also, in this section, you are able to change your job.
.
.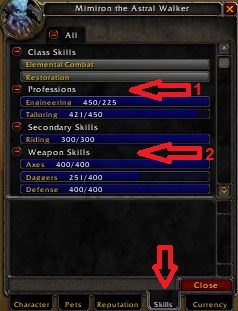 .
.
1- Your level of professionalism in using jobs
2- Your level of professionalism in using weapons
* Note: In version 3.3.5, all skills go up to 450, but some races like Tauren in Herbalism up to 465 Goes up and these 15 skills help you collect more when collecting goals *
* Tip: If your skill in using weapons is not perfect, your shots will go wrong when hitting with that weapon *
4- Currency (assets) Your total assets are displayed in this section.
Currency basically means the unit of everything, in this section all things including Gold , Point , Emblem and… are shown.
This section is for collecting units. Are the ones you will be able to buy from game stores
.
.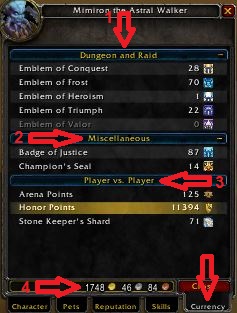 .
.
1- In this section, the units that can be collected in the Instances and Dungeons of this patch are displayed.
2- In this section, miscellaneous units, low value or for previous versions of the game are displayed. 3- PvP
units are displayed here. Is given which includes Arena Point , Honor Point and.