A mount is an item or device that you mount to increase your transfer speed
Mount has two types, ground and air.
.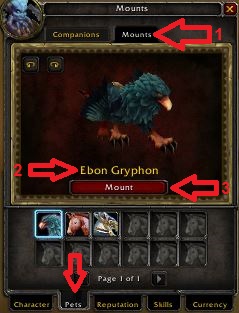 .
Press C

 to see your mounts and choose Pets from the options at the bottom of the page

Select Mounts from the options above

Your mount name

By clicking on this option, you will ride it
Ground Mount

:

It moves on the ground and you can use it in outdoor places
.
.
Fly Mount

:

This type moves freely, so you can't use it everywhere, you have to be in Outland or Northrend to use it.
.
.
.
To ride a mount,

 you must first train it, which is considered a type of license. Train is a cheaper ground mount. After training, you must get the right mount:
At level 20, you can train a 60% Speed ​​ground mount and buy the right mount

At Level 40, you can train a 100% Speed ​​Ground Mount

At Level 60, you can train Air Mount 150% Speed

At Level 70, you can train the license to fly in Northrend (Cold Weather Flying) 

, at the same level, you can train Mount 280-310% Speed.
Mount can be purchased

 from Shops with Gold, Honor, or Emblem
The second mode is to complete some of the achievements, whose reward is Mount

The third mode is to drop Mount from bosses

The fourth mode is to complete some quests

Make the last state of it from Work.