Learn how to create an account and start playing
For this tutorial, we used the wzone.ir site post , which is complete and comprehensive in this regard:
.
.
.
.
.
.
If you are new to the online game World of warcraft or Wow and this is the first time you want to enter the fascinating and exciting world of World of warcraf, please read this post carefully.
WowZone
account creation tutorial :
.
.
.
.
To connect to the versions provided by the server, you must first create your account so that you can enter the game with the help of the account name and account password.
To create an account, refer to the " Create an
account
" section on the site.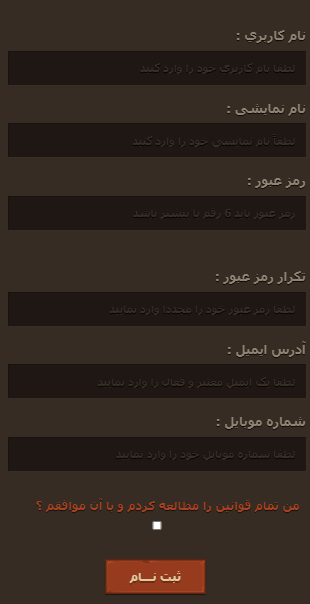 Username = This name is basically your account name or Username. You may encounter a username error when creating an account, which means that the username entered has already been created by another user.
Display name = As the name implies, your display name will be displayed in parts of the site instead of your account name.
Password or Account Password = This section must enter a high security password to protect your account stolen
Repeat password = Re-enter the previous password here
Email Address = In this field you must enter a valid email. Note that account email is one of the most important account security options, so please enter an email that is very unlikely to be forgotten.
Note that entering an email does not start with .www.
We recommend using Google's email with the @ Gmail feature.
Finally, continue your registration by activating the acceptance check box and clicking the "Register" button.
In the last step, you have to refer to the email you registered for the account and click on the activation and confirmation email account link. After doing this, your account is created and you can easily use it to enter the site and play. Note that the link may have been sent to your email spam folder.
After downloading and running the game, you will see boxes that you must enter the details of the account that you initially created in these boxes. Enter the account name in the first box and the account password in the second box.
.
.
Character creation and selection:
You have several choices for your game character, including Alliance / Horde, Gender, and Character.
First you have to choose whether to be Alliance or Horde, it is better to know that these two sects are enemies.

The determination of the hero race is essentially the choice of one of the Alliance or Horde sects, each of which has its own generation.
Alliance denominations include generations:
Human, Dwarf, Night Elf, Gnome, Draenei, Worgen or Pandaren
The Horde sect includes generations:
Orc, Undead, Tauren, Troll, Blood Elf, Goblin and Pandaren
In World Of Warcraft, there are a number of classes (categories) in the left column of the image, which depending on what race you have chosen, a series of classes will be activated for you, from which you can choose your favorite class. Select.
In the Legion version, it is not possible to select the Demon Hunter Class to start playing in a realm until your level in a Realm has reached 98.
In versions higher than 3.3.5, it is not possible to select the Death Knight Class to start playing in a realm until your level in a Realm has reached 55.
6- Features of each Class in WoW game:
Warrior: The ability to fight at close range and hand-to-hand
Due to the difficulty of killing him compared to others, he moved ahead of the other players to attack him instead of others.
Paladin: or legendary warrior, capable of hand-to-hand combat
Skills in using two weapons simultaneously and a shield
Defender / Ability to fill the lives of others (Heal)
Hunter: The ability to fight hand-to-hand
Use long-range weapons
Ability to use a pet in combat
Rogue: The ability to fight hand-to-hand
Ability to become invisible, which makes it a watchdog or assassin.
Priest: or priest, the ability to heal remotely and heal
Shaman: or wizard, capable of remote damage as well as hand-to-hand combat
Use the power of the elements to power spells and attacks
Ability to heal using protective spirits (totems)
Mage: or wizard, remote damage and magic
Resistance with magic and spells
Warlock: or wizard, the ability to fight remotely
Use black magic and summon the devil against his enemies
Monk: Monk, the ability to heal and fight hand to hand
High combat power, reputation in combat with hand and foot techniques
Druid: or priest, the ability to fight hand-to-hand and long-distance
It has different shapes such as bear for melee or bird shape for flight
Death knight: or Death Knight, a hand-to-hand combat ability
Fighting black magic creates diseases in the enemy
Demon Hunter: Users of black magic, the ability to fight close and close
7- Selecting and editing the character's face:
To select the appearance of your character, you must click on the Customize option at the bottom of the image to open a page like the one below.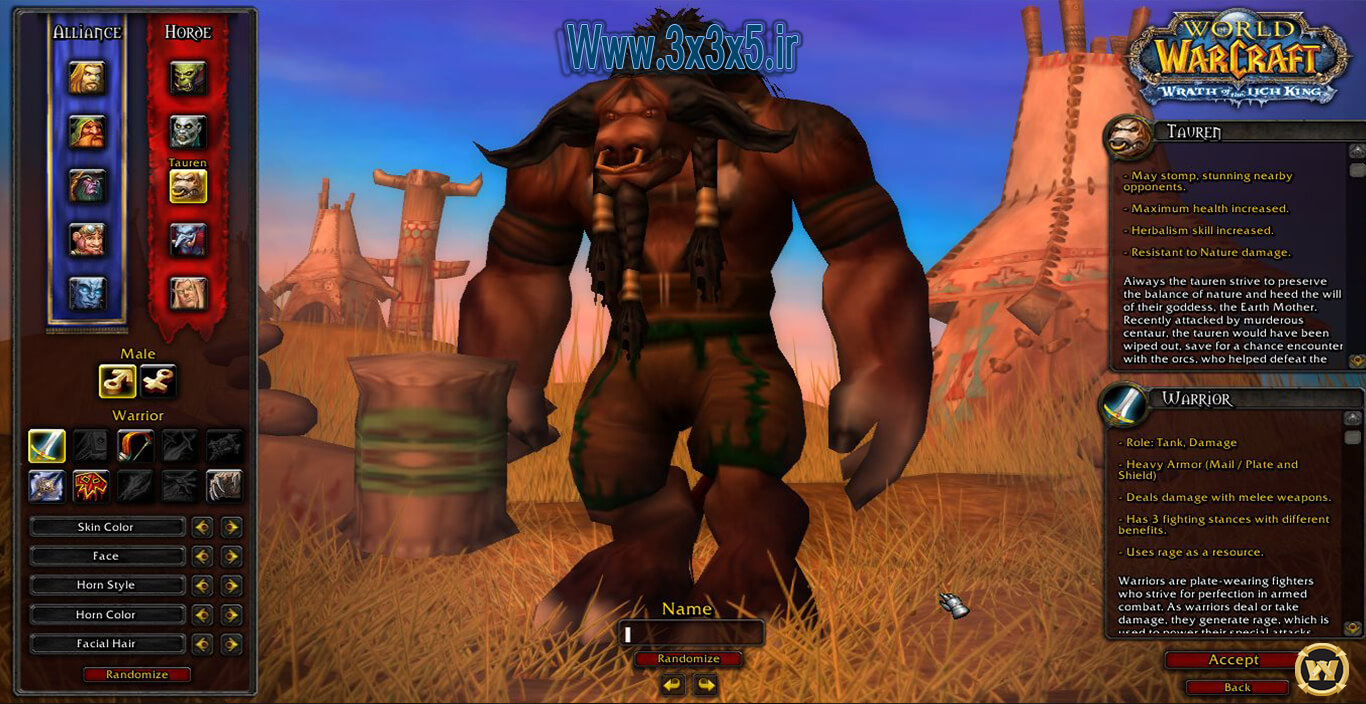 .
.
Now by selecting each of the options on the left, a list of a number of options will appear on the right that you can choose any of them.
Skin Color: Skin color
Face: Face
Hair Color: Hair color
Facial Hair: Hairstyles
Posture: Mode
Then click Finish and finally click Enter World to enter the game.